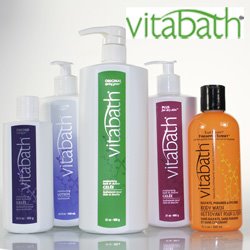 Vitabath
We are the internet's original retailer of Vitabath.
Lowest Prices, Guaranteed! Save on Vitabath here! Vitabath's unique formula, enriched with beneficial vitamins and botanical extracts, contains a proprietary blend to cleanse and protect your skin. Vitabath comes in numerous lines, each with its own distinctive and alluring fragrance, including best-selling Original Spring Green and all new Orchid Intrigue. Indulge your senses guilt-free, knowing that the beneficial vitamins, healthful antioxidants and botanicals in Vitabath are banishing your skin's enemies, like free radicals, redness and irritation. Vitabath made its reputation on its signature bath gels, and also makes top quality lotions. Click your favorite fragrance below to purchase bath gels, soaps and lotions.
All Vitabath products on SALE!
---
Vitabath offers you an abundant selection of fine products to nourish your skin, all created using their proprietary blend of fine botanical extracts and vitamins. Vitabath's first creation, the Original Spring Green, continues to be a perennial best-seller. Other popular favorites are Vitabath Plus for dry skin, Vitabath Spa Skin Therapy, and Vitabath Fresh Citrus Twist, and now the latest sensation, Orchid Intrigue. First developed in Europe almost a half century ago, Vitabath is now produced in Canada. Vitabath's bath and shower gelee produces the most fragrant and copious lather imaginable, and can be used as bubble bath or in the shower. P.C. Fallon is proud to partner with Vitabath to bring you these wonderful soaps, lotions and bath gels. Read more about Vitabath