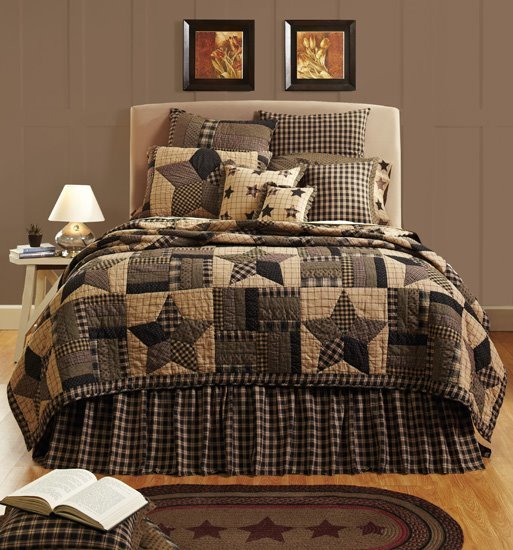 Mayflower Market by VHC
Mayflower Market by VHC Brands is a collection based on classical, primitive Americana decor. This collection encompasses many of the best sellers from VHC, and is the hallmark of their company. These high quality products are simple and humble. Mayflower Market hopes to be the new tradition in American Primitive decor. The saturated colors and colonial and folk motifs are timeless and can quickly become a treasured family heirloom.
---
VHC Brands, formerly Victorian Heart Collection, has a stunning selection of bedding to complement a wide range of styles including rustic, cabin, lodge, country, contemporary, bohemian, traditional and more. Nancy and Billy Kline started the business in a small storefront in the late '80s in northwest Louisiana, the company has since grown and expanded to become one of the leading manufacturers of hand-quilted bedding and coordinating accessories like window treatments, throws, shower curtains, pillow shams, throw pillows and more. Now located in Kirbyville, Missouri near Branson, VHC Brands continues to grow based on its reputation for creating top-quality, beautifully detailed products. Each collection exemplifies the highest quality and attention to detail in the patchwork quilt market today. All items are 100% cotton (except for the occasional acrylic throw). Please note, full-sized bedding is not available from this manufacturer but in most cases queen-sized items would be an appropriate substitution.