Use coupon code HELLO10 for 10% off Archipelago orders over $50.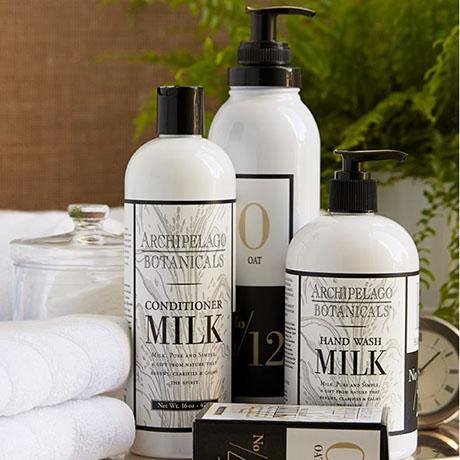 Archipelago Bath & Body
It's only once in a while when a company emerges as an industry leader. Archipelago Botanicals stands apart with their completely innovative natural bath and body products. Made exclusively in the USA, Archipelago produces body lotion, body wash, bath salts, bar soap, hand creme, lip balm, shampoo and conditioner from the purest ingredients that nurture the skin in the most delightfully scented way. Choose from these creative and popular scents: Milk (a staff favorite), Morning Mint (refreshing and herbal), Lavender (not your grandmother's lavender), Boticario de Havana (sensual and exotic), Pomegranate (juicy sweet / tart fragrance and chock full of antioxidants), Elder & Olive (herbal kitchen), Coconut (sun-kissed tropical fragrance), and Black Honey (exotic and seductive). Purchase Archipelago Botanicals today! (Click here for Archipelago Home Fragrance items.)
---
Archipelago also has a wonderful line of home fragrance items that has the same exceptional quality and natural ingredients that you love in the bath & body items. Archipelago Home Fragrance items are also made in the USA.