Vitabath Gelee.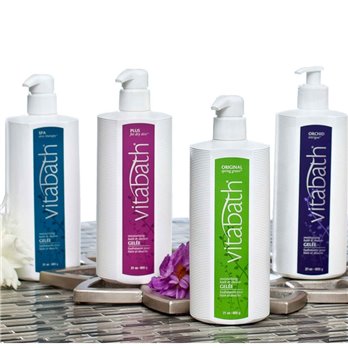 Vitabath products are filled with age-minimizing ingredients like Vitamins A,E,C and D, Rosemary extract, Patchouli Oil and Aloe Vera that help reduce wrinkles, aid in preventing cell damageand stimulate healthy new tissue.
Smoothing
Say good-bye to rough, dry skin as Vitabath's Vitamin E helps smooth skin's surface and protect your skin against the effects of free radicals that can cause cell damage. Jojoba seed oil and sea kelp extract leave skin smooth and revitalized.
Conditioning
Natural emollients, like sea kelp extract, sesame seed oil and wheat germ oil found in Vitabath products leave skin feeling soft, soothed and hydrated.
Balancing
Vitabath products provide a wonderful sensory indulgence for both mind and body. The energizing and stimulating properties of rosemary Extract and the relaxing, soothing qualities of patchouli oil are like therapy for the senses. Quality ingredients and fragrances enhance your mood, as well as care for your skin.
CLick here to go to the vitabath main page and to purchase.