July Sale Going on Now! Take advantage of some of the lowest prices of the year.
Free Shipping on orders over $89.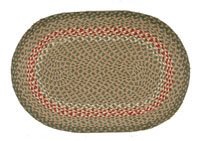 Green and Burgundy
Add pleasing texture and comfort to your home with durable, natural braided jute rugs in appealing tones of green and burgundy. Please note that an inexpensive 10" swatch is available for purchase which would allow you to view a rug sample in your home before buying a larger rug.
---
When properly cared for, a jute rug will last for many years. Just like other fine rugs, they can be cleaned when necessary with mild soap. Vacuum normally being sure to first trim any loose fibers that might get caught in the vacuum beaters. Do not machine wash.