Decorating Tips and Decorating Advice
P.C. Fallon Co.'s Quilts and Decorative Bedding from C&F Enterprises and Waverly.
Decorating a bedroom can sometimes seem like a difficult task. We assist many people each day and we find that most people have good decorating ideas but many of them lack the confidence to turn their vision into reality. The following ten easy decorating tips may assist you in room design.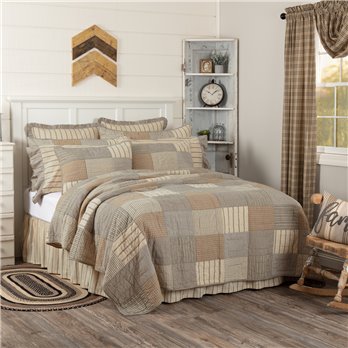 1. Remember, it's your home. It's OK to ask friends and family for their opinion and advice, but what you want is really what should matter.
2. A good starting point is a broad generalization such as, "light and airy", "bright and cheery" , "warm and cozy" , "clean and smooth" , "rich and plush" and yes, even "fun and whimsical." Think of other interiors you have seen that match the adjectives you like.
3. Redoing an entire room can seem overwhelming. Getting started is sometimes the hardest part. Pick something you are sure about, such as a bedding ensemble, and then build the entire room around it.
4. It's OK to copy others. Even the most famous decorators copy each other in obvious and subtle ways. (Although most would not admit it.) Copying is an easy way to be satisfied with your decorating. The interior you are copying will give you an idea of the finished result before you start. Pictures in magazines are a great resource. Tear the pages straight from the magazines and keep them in a folder as references. (Tech savvy people can use Pinterest.)
5. Buy your paint last. Picking a paint color can be good starting point, but don't buy the paint until you have everything else planned out. We often hear from frustrated people that have painted a room with a "beautiful color" only to find out they can't find anything to match it. By waiting to buy your paint last you can, if needed, alter your color choice slightly to match the other items you have chosen.
6. Decide the "gender" of your room. Decorating schemes can be on a scale from very feminine to very masculine or somewhere in between. Feminine and masculine elements can be used in the same room. A good compromise for a couple's bedroom is to use a floral print that has masculine colors such as dark greens and blues. The use of stripes with a floral is a common method to make a feminine print a little more masculine. Toile is a classic look that is considered gender neutral. For the wife whose husband says "absolutely no flowers", tell him that he can have a bedroom with the "man-cave look" when he buys a second home in the mountains.
7. Use a lot of one thing or use a little of several things. Don't over do it. If you use too many different elements, everything loses any sense of importance. One decorating approach is to commit to a single color or theme and then base the room around that. To do this you must be disciplined and not bring in to many things that don't go with your theme or color.
8. Instead of a complete redecorate, you can sometimes "spruce" up a room with a few new items like a new floral arrangement or by just painting a new color below the chair rail. Sometimes, it is better to spend more money and have what you want than to mix new items with old worn out items. Sure you paid an arm and a leg for those custom drapes in 1998, and they may still look OK, but will you really be happy keeping them? If you want to redecorate, don't agonize over it, go ahead and re-do the whole room.
9. Keep your expectations real. Some people have a tendency to focus in on tiny inconsequential things. The room is not going to be perfect but with effort you can have the room you want. Try to look at the room as a whole and realize that it is not a museum display but a place to enjoy and relax in.
10. Have fun and don't let it stress you out. There are many other things that are more important!
We hope this decorating advice has been helpful.
Click here to go to our Bedding and Home Decor main page.

Click here to go to our Thomasville Home Fashions page

Click here to go to our VHC Home Decor Department