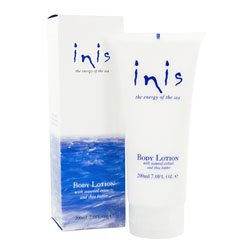 Body Lotions & Creams
Inis Revitalising Body Lotion and Nourishing Hand Cream are created with natural, skin-protecting ingredients such as hand-harvested seaweed extracts and sea minerals along with emollient shea butter, sesame seed oil and argan oil. With the fresh, clean and uplifting fragrance of Inis, the lotion and hand cream will help you feel close to the sea, wherever you are. All Inis products are made in Ireland.
---
Because of their deep commitment to conservation of the ocean, Inis is the core funder of the Irish Whale and Dolphin Group (IWDG), dedicated to the protection, conservation and better understanding of whales and dolphins both in Irish waters and around the world. Their mission is to help ensure that the seas of the world will be a source of delight and joy for many generations to come.