July Sale - Use coupon code JULY15 for an additional 15% off Inis orders over $50.
Free Shipping on orders over $89.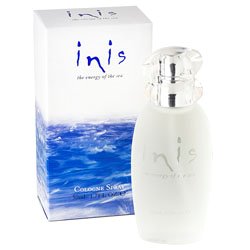 Cologne
This fresh, clean and energizing fragrance captures the vitality of the ocean. The top notes are refreshing lemon and marine, the heart notes are lily of the valley, and base notes are sandalwood and a bit of clove. Named for the Irish word for island, Inis will make you feel close to the ocean no matter where you are. All Inis products are made with care in Ireland.
---
Due to their deep commitment to conservation of the ocean, Inis is the core funder of the Irish Whale and Dolphin Group (IWDG), dedicated to the protection, conservation and better understanding of whales and dolphins both in Irish waters and around the world. Founded in 2001, the mission of the IWDG is to help ensure that the seas of the world will be a source of delight and joy for many generations to come.