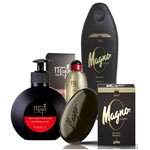 Magno - Maja
These Spanish lines of beauty & personal care products have been popular for many years both in the U.S. and abroad.

The Magno line is formulated with salts and minerals from the island of La Toja in the hot springs of northwest Spain. These products create a memorable, masculine fragrance that will linger through the day and leave your skin soft and firm. Made in Spain.

The Maja line has a signature spicy floral fragrance enjoyed by generations. Soaps, shower gels, body lotions and more contain delicate fragrances blended with Spanish olive oil or other natural oils to create exotic, luxurious bath and body products. Made in Mexico.