Use coupon code ARCH10 for 10% off Archipelago orders over $50.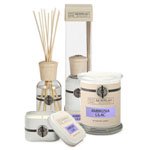 Ambrosia Lilac
The fragrance of sweet flowers on a warm summer breeze. Enjoy a scented stroll through aromatic petals of Garden Lilac, Blue Violet and Neroli Bloom. Infuse your home with garden fragrance whatever the weather outside.
There's Nothing Here Yet!
This category is currently empty. Please check back soon for new Products...