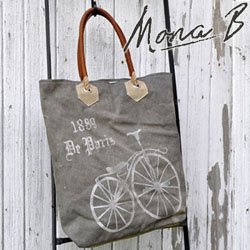 Take 15% off your Mona B. order with Coupon Code MDAY15DEAL |Shop Now | Memorial Day Deals end 5/31/17.
Mona B. Tri Corner Canvas Crossbody Bag
Ready to Buy?
The Tri Corner Small Crossbody Bag by Mona B. is a compact upcycled canvas zipped bag with adjustable leather straps perfect for carrying everyday essentials. It's made from a gray, stone, and khaki canvas tarp with brown leather accents at the corners and tiny fringe trim. Zippered pocket on the back. Dimensions are 6"W x 8"H, with a 22" strap. Made from up-cycled canvas. The fabric shows the history of its travels which may include stitch marks, minor staining and unique scars and bruises. Color variations and patches add to the uniqueness of each bag. Heavy cotton canvas.
Dimensions: olive/tan/brown/grey
Looking for similar or related items?
Try one of these related categories:
Other Customers Have Also Liked:
Have a Question?
Do you have a quick question for us? Can't find what you're looking for? Fill out the simple form below and we'll send you a response as soon as possible.