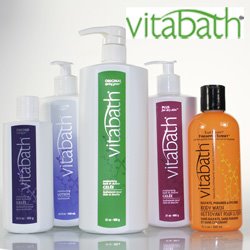 Sale on entire stock of Vitabath
Vitabath Orchid Intrigue Moisturizing Bath & Shower Gelee (10.5 oz)
Ready to Buy?
Vitabath Orchid Intrigue Moisturizing Bath & Shower Gelee (10.5 oz) blends the alluring fragrance of amethyst orchid and the seductive scent of amber velvet with night blooming sambac jasmine, and sugared musk. In the shower or bath, gently cleanses with a luxurious, creamy lather. Nutrient-rich formula contains vitamins and natural botanical extracts, including Horse Chestnut Extract, Biotin, Sunflower Oil, and Lanolin Oil, to soothe and condition skin. Paraben and diethanolamine free. 10.5 oz flip cap bottle. Great size for travel. By Vitabath.
Looking for similar or related items?
Try one of these related categories:
Other Customers Have Also Liked:
Have a Question?
Do you have a quick question for us? Can't find what you're looking for? Fill out the simple form below and we'll send you a response as soon as possible.